First and most important. My first meal in Europe. Cinnimon bun, sandwich, and coffee. 2 Euro at the coffee-shop next to the hotel in Regensburg.
Regensburg is an old town with a charming old-town. However, it is similar to all the other towns in Bavaria…its town with a church in the center. That's a funny thing to see on the road from Munich airport to Regensburg…many little villages on the road…each with a church in the center. My personal feeling: Germany is beautiful. Germans are awesome. But would be better with fewer churches. And I'm not just talking about town planning.
Every old building in both Regensburg and Praha (Prague…more on this below) have all sorts of cool decorations / statues on them. I like this, when the statues are on the outside of the building. I'm not so into the baroque gold-covered statues on the inside.
Every bar in Regensburg Old-Town is required to serve a particular beer depending on which building the bar is in. I was told that their are some 10 or so major breweries in Regensburg. They have maintained contracts with the building owners for hundreds of years which stipulate that establishments within any particular building must serve beverages from a particular brewery. In my opinion, all the beer there is great; I could not really tell which is better than any other. My first beer in Regensburg was in a Rock&Roll bar. BTW, everyone in Regensburg under the age of 40 seems to have multiple punk piercings. Like nose piercings or eyebrow bolts.
I mostly ate Turkish Donar Kebabs in Germany. They didn't have beef sausages, but I did eat a lot of good sourkraut. In this beer garden (same as pictured in the last post), I ate this beef and potato dish with great dark beer. The sauce on the meet was pretty much the same as on the beef gulash dish in Praha. But very good. Its pretty much the only "German" dish I ate because most of the dishes were made with pork. I also ate big delicious pretzels every morning. My Chinese team ate Chinese food the first two nights. On the third night in Germany, most ate McDs. I begged them to try some Turkish food with me, but they were not into it.
Germany has "public option" health insurance. When people need physical therapy (because of recovering from accidents…or just because of overweight), they can go to a "recovery resort" and their insurance pays for it. We toured one resort. Not anything incredibly fancy. Just a little hotel, surrounded by green hills, playgrounds, "pebble walks" (for people to feel different types of sensations on the feet), tennis courts, mini-golf, ski-jump ramp, ponds, and hiking.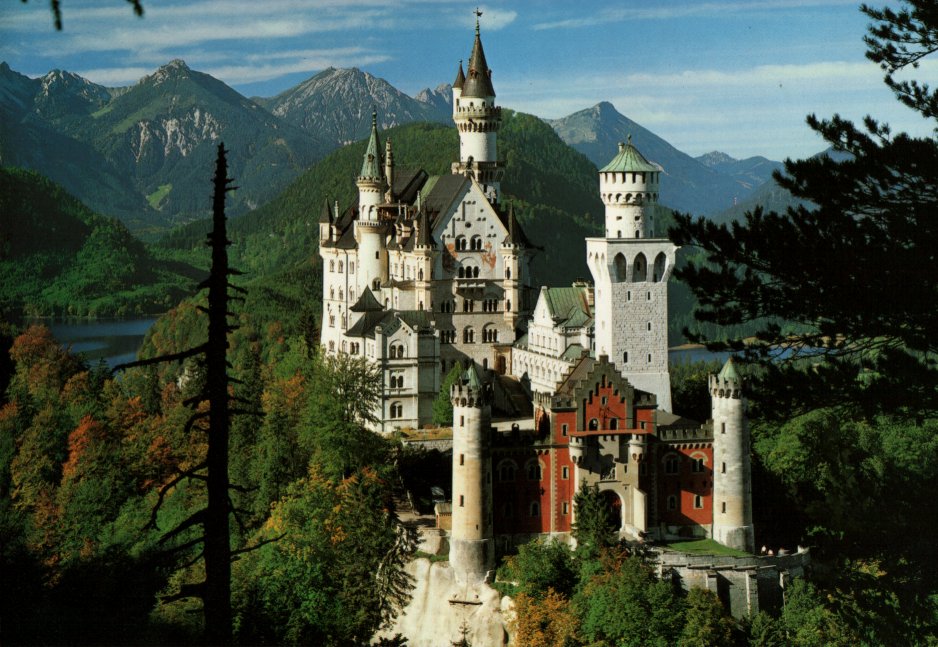 During the week, I worked with the Chinese and German teams to learn about SAP software. On the weekend, we went on a tour of Castle Neuschwanstein. Its a beautiful castle in the Southern part of Bavaria, and home to one of the last kings of Bavaria, Ludwig III. Ludwig had a love of Wagner's opera, nostalgia for the good old Medieval days when Kings went out and killed Dragons, and he was a flaming homo. Nothing wrong with that last part. But the inside of his castle is covered with fantasy art depicting Wagner's epics, with (IMHO) a homosexual "tilt" to it. I didn't bring my camera by accident…the picture above is from a promotional website. You could not take pictures from the inside anyway, and you would need to get to a mountain or someplace a little ways away to take a picture like this.
My Chinese team loved this place BTW. But they had concerns that the castle was not "old enough" for them to fully appreciate. I told them that they should take it as it is.
After the castle, we saw a big baroque style church. I'm not into churches… the whole "Thou shalt not commit idolotry" thing gets to me when I'm in a Church with gold covered statues all over the place. Also, while Ludwig III wasted his family's fortune to build 3 castles, the Church still takes money from common people.
I was happy that my Chinese team didn't do stupid things like pretend to pray in the church. And they were generally very respectful ( I feel that as most Chinese don't have religion, they don't understand that they should be reverent in a place of worship).
The above picture is from outside the church. Germany really is very green, and very beautiful.
I can honestly say that I am now Pro-German. German people are really cool. Friendly. Intelligent. Open. Older Bavarians are also cool… but somewhat "straight and narrow". Maybe they are too stable for my tastes. And Germans seem sort of group-oriented to me. They like to go out in big groups. I realize that I had prejudices against Germans before going to Germany. Watched too many war movies I guess. Now those feelings are gone. I could even see myself buying a car from Bavarian Motor Works someday (but I won't because I don't want to own a car…public transport is better). I would be happy to live in Germany. Except that a few things would drive me nuts. Like…
-Shops close on Sundays (Chinese coworker asked me, "how can this be? Do they not want to make money?")
-Shops close at 6PM
-Service people don't acknowledge me if they are talking with friends.
-Everyone follows the rules way too much at work, even if it does not make sence.
Anyway, I wanted to see somewhere else besides Germany, so I got on a train to Prague, hereafter known as Praha. I could have flown to Amsterdam, but when I thought about it, the main reason why I wanted to go there was because I wanted to legally smoke pot. And that's a silly reason to go to a country. The train to Praha was about 6 hours and 60 Euro (round trip on a Regensburg-Prague special), which was about the same travel time and much less money than getting to Munich airport to fly somewhere. I heard Prague was a beautiful city. I knew that they once elected a playwrite to be president (Vaclav Havel). My friend Ingrid says that all Prague girls are "dirty sluts"… but that is not why I wanted to go. I just wanted to see another country in Europe.
So in Praha, I ate a "Bohemian Bagel" with creamcheese and lox. Delicious. Everyone else in the bagel restaurant were Americans BTW.
Praha has;
-a large oldtown
– many churches
– a Franz Kafka museum (which I didn't go to because I never read a Kafka book)
– a large Jewish section
-beautiful rivers
-a castle
– an election, where all the candidates are rather ugly IMHO
-lots of tourists from everywhere
Praha used to have a large Jewish population, which was wiped out during WWII. I went to the Jewish Quarter to see the museum. When I saw an exhibit of childrens art made by children who were murdered during the Holocaust, I cried like a girl and ran out (didn't want people to see me like that). Then I got depressed because I realize its up to me to get my kids into Hebrew school, but right now that is logistically difficult. And Akiva can't sit still.
The old Jewish cemetary above has been around since the 1400s. Its was a good place to calm down after the children's art exhibit.
I ate beef gulash with so-called dumplings in a Praha beer hall. Beer was great BTW. Gulash was great. Dumplings seem more like steamed bread… BTW, I also drank two herbal liquores which I liked alot. One was called Becherovka. The other is Fernet. I want to start drinking this everyday. It was good on my stomach. It made my throat feel good. Best alchohol drink I ever had. (I like Becherovka more than Fernet though).
Praha is known for its many spires. Not only the churches, but everywhere. Unfortunately, there were tourists everywhere… I didn't want to take pictures of them, but that limited what I could picture.
If I was going to create a cocktail of cultures, I would add 1/3 American (the freedom loving, confident part), 1/3 Italian (the expressive part), and 1/3 Russian (the intellectual, and sometimes cold part). The result would be Czech. How to describe Praha? Take San Francisco. Replace the ethnic Mexicans with Turkish. Get rid of most of the Asians, except the most pretentious ones (keep all the pretentious people of The City). Replace Mexican great eats with Turkish great Eats. Add beer halls. Remove 50% of the gay population. Remove 25% of the homeless population. Add a lot of hot Italian tourists. Add a lot more bars. Replace Gary Newsom and other politicians with uglier versions of themselves. Now you have Praha.
OK. These are silly generalizations. How else can I describe a place like Praha?
As I write this, I'm back in Suzhou. I'm very happy to be back. I'll be very busy at work now. I'm very happy to be with the children and Haga. They had a tough time while I was gone…it seems they both got the Measles while I was in Europe. But they managed to have some fun too. More pics of the kids, and highlights of their last two weeks in the next post.